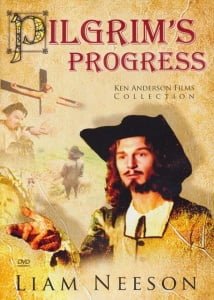 John Bunyan a lehkhabu The Pilgrim's Progress denchhana film a ni a. A lehkhabu hi February, 1968 ah England ramah lo published daih tawh a ni.
Mizo tawnga lehna film Pilgrim's Progress hi 5 April, 1978 ah release a ni. Film star lar Liam Neeson a film channa puitling hmasa ber pawl a ni nghe nghe.
 Kristiana Vanram Kawngzawh hi Mizo zingah pawh a lar em em mai a. A thawnthu hi a ngaihawm mai bakah, ngaihtuah tur a tam. A thawnthu atang hian mahni inzawh tur zawhna tamtak a awm, a bikin Kristian nun rinna.
Kristiana Vanram Kawngzawh
John Bunyon-a Chanchin
John Bunyan-a (1628-1688) hi Elstow, Bedfordshire, England a chhungkaw rethei tak ami a ni.
Pa nungchang uluk lo tak thin ni mahse a fanu upa ber Mary mitdela a pian atangin a inngaihtuah harh a. A nupui sakhaw mi tak leh Pathian mi dangte zarah chhandamna neiin Pathian thuhriltu ropui tak leh Pastor a ni zui.
England ram Kohhran, Church of England vuan lovin Pathian hnena hruai thlengtu Pastor John Gifford-a Baptist Kohhran chu zawmin Bedford ah an pem a.
England in lal a neih leh atangin Kohhran dang vuantu leh thuhriltute an man zingah John Bunyan-a pawh vawi hnih lai man a ni. 'Pilgrim's Progress' hi a tan hmasak, kum 12 lai a tan chhunga a ziak a ni.
A ziaktu nun a thil thlengte hi an thuziakah hmuh theihin a awm fo.
Kristian Van Ram Kawng Zawh Thu a kan thil hmuh entirna thenkhat:
Bedford-a nu pathum Pathian thu sawikhawmte nula thianghlim Lalin Mawi ami te niin an sawi.
Pastor John Grifford-a, Bunyan-a Kohhran lawina hmasa a pastor chu Pathianthuhriltua hi niin an sawi.
Mi thalo te hi an hunlaia mi awmthei, mipui nawlpuiin mi thalo anga an ngaih te an ni tlangpui.
Kum 1666 a London khawpui kang khan a bu chhung thu a meidil leh boralna a sawite a tichiang lehzual.
Kristian Van Ram Kawng Zawh hi Allegory – tehkhin thu, thawnthu hmanga thu ril zawk puanchhuahna a ni.
A ziaktu in thawnthu sawitu (narrator) a siam a, chu thawnthu sawitu mumang anga ziah chu a ni.
Allusion- hmundang- lehkhabu a bikin Bible, an hunlaia an thu hriat lar leh thawnthu tlanglawn atang te in thu awmze nei, a sawi duh tichiang tura hawh a nei bawk.
– Source
Kristiana Vanram Kawngzawh hi thawnthu classic, hlui thei lo a ni.
Part 1 – Mizo Film: Kristiana Vanram Kawngzawh
Part 2 – Mizo Film: Kristiana Vanram Kawngzawh